Finding a nice gift in the rush of everyday life is no longer a chore, thanks to online stores. For plant lovers, The Juicy Leaf offers the best delivery of succulents in Los Angeles, delivered by hand. Here you're sure to find something to adorn the life of your loved one.
Succulents are easy to care for and look wonderful in any environment. As they store water in their stems and leaves, they grow in exuberant and ornamental forms. The species are grown individually or arranged in beautiful and harmonious arrangements, becoming unique decorative objects.
The Juicy Leaf has a delivery system for succulents and tropical plants that is very convenient for you who don't like to waste time browsing around looking for a special treat. Check below how our deliveries work.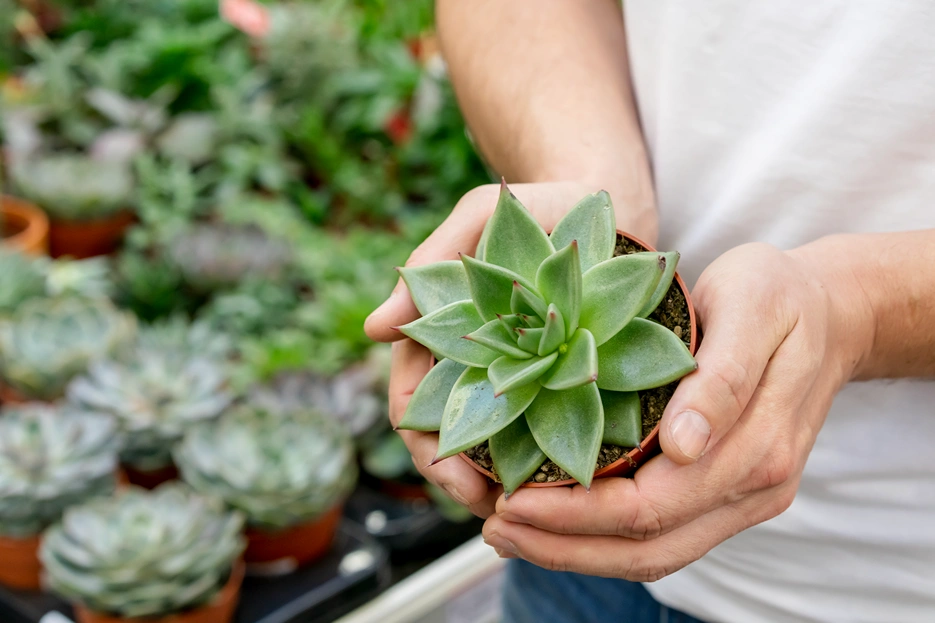 Delivery of a Succulent Arrangement
Available through the official website and partner sites, The Juicy Leaf succulent delivery offers convenience and good taste at the click of a button. It is the perfect option for those looking for a unique gift that is not commonly sold in florists and gift stores.
Just like other sites, it is super easy to choose the products and make a purchase online.
You can do it directly in our online store or through
Bloomnation
for local delivery of arrangements. If you live in Los Angeles, you can opt for local delivery on our website, which is done by our team with the same care with which 
we design and assemble the succulent arrangements
When buying through The Juicy Leaf's website, there is also the possibility of picking up the product directly at the boutique, at 2614 Arthur St. Ste B, Los Angeles, CA. This, by the way, is a great opportunity to get to know our little green oasis in the middle of the city.
For other US cities, we offer delivery of succulents via shipping through our online store. We ship nationwide, except Hawaii, and have a secure return and refund policy.
Succulents Make a Wonderful Gift
If you've been caught by surprise with a relative's birthday or a friend's promotion from work, Juicy can help. Our Los Angeles succulent delivery is fast and offers unique handcrafted products for those who live in the area. And we guarantee that the arrangement arrives perfect at its destination, because we deliver it by hand.
It is a gift loaded with symbolism, as it brings a piece of nature from somewhere in the world in a small vase. There are several types of succulents, and countless possibilities of combination with different environments. From the simplest to the most elaborate, depending on the arrangement of succulents, it goes from the CEO's office to the intimate workspace in your friend's home. The same goes for the charming terrariums, which add a magnificent shade of green to the reception area of your therapist's office, or to your grandmother's small apartment.
Succulents are docile – you don't need to be a gardener or a "green thumb" to take care of them. Because they retain water inside, they do not require daily watering, and do not demand extreme time and dedication from their owners. They also do not need fertilizing, the use of substrates, and replanting, unless they overgrow and start to suffer from the available space. What they need is light – some even live well in the half shade, but never in total shade.
In other words: anyone is capable of caring for a succulent, and enjoying its unique charm and beauty. As they can withstand varying climates, it is possible to grow succulents from other regions of the planet without too much difficulty. In our store we have varied species, such as the famous stone rose (Echeveria elegans), the delicate donkey's tail (Sedum morganianum), originally from Mexico, and the exuberant zebra plant(Aphelandra squarrosa), native to the Atlantic Forest, Brazil.
Tropical Plants and Ceramics
In addition to succulent arrangements, we have a series of ornamental plants and incredible decorative artifacts for you to give as gifts. They are objects of bold design, such as vases and ceramic pots, as well as crystals, candles, and incense sticks to aromatize and energize the environment. 
Those who prefer a natural souvenir can choose one of the tropical plants in our catalog. Unlike succulents, they require more care depending on each species. However, they are exuberant and have the power to make any space more enchanting.
Delivery of Succulents
- A Great Gift Idea
Now that you know the best
succulent delivery
in Los Angeles – and why not say, the United States! -you can start browsing the online store on the Bloomnation website.
There's always a birthday or holiday coming up asking for a special gift, isn't there? 
But if you really like an arrangement of succulents or a terrarium from The Juicy Leaf, you can give yourself a gift.
A succulent garden
makes any home more beautiful. Sounds like a good idea – after all, you deserve a unique treat, loaded with affection and good energy!Keep an eye on our special design arrangements for occasions like Valentine's or
Mother's Day
.

VISIT OUR ONLINE STORE
Find beautiful succulents and arrangements available for delivery and pick up.